The Ford F-Series of light-duty trucks has been a mainstay on America's roads since these vehicles were introduced to the car-driving public back in 1948. Now in its 13th generation, the F-Series continues to sell in massive quantities-nearly a million of these vehicles are purchased each year in North America. The F-Series has continuously held the title of best-selling vehicle in the U.S. since 1981!
The Ford ROUSH F-150 is the vehicle of choice for many automotive enthusiasts who won't settle for anything less than F-Series excellence. A modification of the standard Ford F-150 design, these trucks come with a range of appealing upgrades and advanced features-it all adds up to a vehicle that just radiates power and style. The ROUSH Performance team has really pulled out the stops to keep this truck at the cutting edge of automotive quality.
Whether you're cruising down the highway or tearing up the racetrack, ROUSH F-150 trucks provide the top-notch performance that you won't find anywhere else. That's largely due to the awesome power of the ROUSHcharger™, a high-quality supercharger system that comes with a full three-year/36,000-mile warranty. If you really want to rule the roads, take a moment to look into the dynamic ROUSH F-150 Nitemare-literally the fastest street truck on the planet, with a 600 hp engine.
If you're interested in purchasing one of these vehicles-and we don't blame you-feel free to come on over to our Ford dealership in Medina, NY, a short drive from both Rochester and Buffalo, NY, and have a look at our current inventory. Let's take this opportunity to explore some of the first-rate features available on the 2018 Ford ROUSH F-150.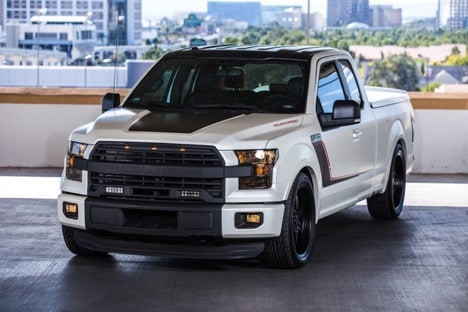 The ROUSH® / Fox 2.0 Performance Series Suspension System - Includes adjustable height suspension that has been enhanced to provide you with better on- and off-road performance.
ROUSH® 20-inch Wheels with Mickey Thompson Baja ATZP3 Tires - These twenty-inch wheels feature a ROUSH® center cap to give your vehicle a striking look. The ROUSH® Locking Lug Nut Set is also available to provide your wheels with extra security.
ROUSH® High-Performance Exhaust System - Assembled from no fewer than 304 high-quality stainless-steel components, this state-of-the-art feature includes durable exhaust tips and a world-class muffler system.
ROUSH® Molded Floor Liners by WeatherTech® - These front and rear floor liners are stylish, durable, and dependable.
ROUSH® Front Grille and Clearance Lighting - This impressively styled grille makes your vehicle stand out from the pack.
Optional Components - You can also choose from options such as the "Splash"-style graphic, leather seating upgrade, ROUSH Active Technology Exhaust System, ROUSH Branded Tool Bag with Off-Road Recovery Items.
3-Year, 36,000-Mile Limited Warranty - No charge for any covered warranty repairs.
These Ford trucks can't be beat! As one of the premier Ford dealers in NY, serving Buffalo, Rochester, and the surrounding communities, we have a selection of Ford F-150 trucks on hand for our customers. At Orleans Ford, we also have a wide array of other quality new cars and pre-owned vehicles for sale. No matter what model you're searching for, the team of professionals at our Medina, NY auto dealership will help you find the right set of wheels for your budget and your lifestyle. New car financing is available.
Join the legion of satisfied customers who enjoy the wide-ranging benefits of ROUSH vehicles!