Orleans Ford is conveniently located in Medina, NY, making it possible to serve both the Rochester and Buffalo communities.
Orleans Ford has the area's sharpest and most aggressively priced selection of New and Used Ford vehicles, from King Ranch to Shelby GT500 and everything in between.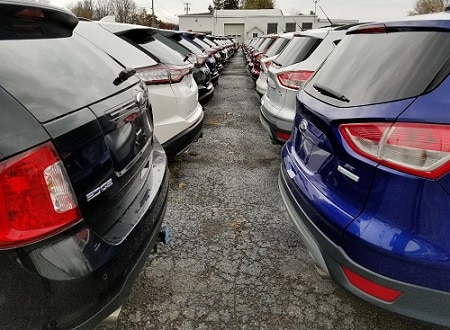 Once you drive your new Ford vehicle off the lot, you want to ensure you get as much use as possible. That's where our car service and repair center come in. If you buy Ford cars or lease a vehicle from our Ford dealership, you're getting quality maintenance with certified Ford parts also available. You'll know your vehicle is in good hands from beginning to end.
You're also in good hands with our Ford finance & insurance team. They take the stress out of car buying and work to ensure you have a pleasurable experience while meeting your financial needs. Whether you are looking for auto loans, a lease, or another financing solution, Orleans Ford will be happy to help. 
Shop the Latest New Car Inventory
Browse our newest 2021-2022 Ford Vehicle Inventory consisting of all available body styles, including sedans, coupes, cargo vans, hatchbacks, SUVs, and trucks, plus vans/minivans and wagons. Our auto dealership stands out above the rest because you can select from a wide range of available models. Search and sort our listings, but the choices aren't limited to what you see there. New vehicle specials cover cars for sale at competitive prices and include Ford trucks at prices you never thought possible. 
Buy a Used Ford in Buffalo or Rochester, NY
Save big with a used Ford but that runs like new. Our staff will help you find great vehicles, or you can save your selections and sign up for Price Alerts; even compare different models side by side to help make the best possible decision. Specials on used Ford cars are frequently updated, so you can take advantage of competitive prices as they are announced. 
Hand-picked, the highlighted models include some recent model year sedans and used Ford trucks. Whether you need a family car or a commercial vehicle, we're stocked with new, used, and certified pre-owned models, so there is complete disclosure of the vehicle's history and it has been thoroughly inspected to guarantee it's up to par. Also, check out our used vehicle specials to save on top-quality cars and trucks at the best used car rates.
Our Financing Center Works with You
The auto financing options for customers in Rochester and Buffalo, NY include convenient choices for new car financing, so you can obtain affordable car loans. Orleans Ford works to make things easier with periodic finance specials. Our Quick Applications lets you apply for auto loan options online by submitting a few important details, and you can get a free Equifax credit report by using our Credit Estimator.
We know the stress that buying a new or used car can bring, and the added burden of securing financing. From fast applications to specials, to enabling a fast and easy way to obtain a quote for the vehicle you want, Orleans Ford is on your side and strives to make the process stress-free.
Your Buffalo and Rochester, NY, Ford Dealership for Lease Specials
Lease Offers are announced on a month-to-month basis at Orleans Ford's Medina, NY dealership. Here's a way to find stellar deals on some of the latest models. If you're in the Rochester or Buffalo area, keep checking our local Penny Saver Ad for even more savings. That makes it even more of an incentive to come directly to us, rather than continue searching for "Ford dealers near me."
Service and Parts for Your Ride
At Orleans Ford, we have everything covered. We're not just an auto dealership but a full-service facility able to maintain and repair your vehicle. You can depend on our Service Center for routine, emergency, and collision work. Look out for service specials and coupons, but that's not all. Our Parts Department has everything you can possibly need, and you can depend on us for oil, tire, and brake service at any time.
For more information about Ford cars for sale and other services, visit us at 1405 South Main Street in Medina, NY, or call for sales assistance at 585-268-1050.